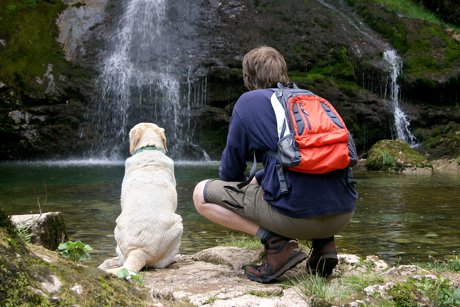 West Vancouver real estate treats man's best friend right. Dog lovers have plenty of parks to enjoy their furbabies in around the city. Leashed and unleashed outings cater to owners of friendly dogs just out to have a good time.
Ambleside Park has plenty of places for pups to roam with grassy knolls, trails and even beach access for dogs to romp in the waves on warmer days. Families frequent Ambleside Park because there is something for everyone to do. The skate park calls to teenagers adeptly showing off tricks. Golfers find their groove on the Par 3 Golf Course. Sandy beaches are made for summertime swims, and afternoon snacks are often devoured from the concession stands.
In Cypress Falls Park, dogs are great hiking buddies. Tails wag in greeting for fellow hikers on this West Vancouver property. An off leash area is perfect for energetic runs. Dogs and their owners can relax nearby benches while watching games in play on the baseball diamond. Birdwatchers seek out feathered friends often spotting elusive species.
Explore Vancouver Property With A Buddy
Over at Whyte Lake Park animals are welcome but must remain on leash due to the sensitivity of the habitat. A scenic wonderland, this inspirational piece of West Vancouver real estate features a boardwalk and pier. The largest park in West Vancouver, Whyte Lake Park trails wind through scenic surroundings with creeks, a lake, wetlands and a mystical old growth forest. Benches are spread about for sitting and contemplating life. Dogs are especially good contemplators too.
Close to the business district sits Memorial Park. This is another area where dogs must remain leashed. Walking hand in hand with their humans, pups are welcome to meander through. Curious critters perk up as they observe the centennial salmon rearing pond. During Remembrance Day the Memorial Arch is a tender spot to gather and reflect on all those who have served.
Bring your canine buddy on the next family adventure. With dog only waste bins centered throughout West Vancouver parks, the city reminds owners to "pick up what their dog puts down." Every day is a doggone good day with a happy pooch by your side. More information on where dogs are welcome can be found in Abbie's Guide.